Sue Rankin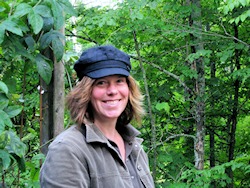 In her 24 year career as a glass artist, Sue has drawn her inspiration from the rural Ontario landscape in which she lives. As an avid gardener she continues to explore the idea of cultivation through her vessel and sculptural works.   She is well known for her vibrant floral vases.  She has studied how glass has been used historically and challenges herself to transition form and style into a contemporary feel.
Sue graduated with honors from Sheridan College in 1989 and received a three year artist in residency at the Harbourfront Centre glass studio, in Toronto from '89-'91 and a short term residency in '06. She has studied glass at the Pilchuck Glass School, Haystack School of Craft and Penland School of Craft in the U.S..
Susan has won awards and grants, including from the Canada Council for the Arts and The Ontario Arts Council. Her work has been displayed in numerous galleries and museums across North America.